Furnace Models for Sale in Toronto

Efficiency Rating (AFUE): 96
ENERGY STAR® Qualified
10-Year Limited Extended Warranty
Power Saver™ constant-torque motor

Efficiency Rating (AFUE): 96
ENERGY STAR® Qualified
10-Year Limited Extended Warranty
Variable speed (ECM) motor

Efficiency Rating (AFUE): 96
ENERGY STAR® Qualified
10-Year Limited Extended Warranty
SureLight® Silicon Nitride Ignitor

Efficiency Rating (AFUE): 96
ENERGY STAR® Qualified
10-Year Limited Extended Warranty
CleanEffects™ advanced air filtration

Efficiency Rating (AFUE): 99
ENERGY STAR® Qualified
10-Year Limited Extended Warranty
SilentComfort™ Technology

Efficiency Rating (AFUE): 97
ENERGY STAR® Qualified
10-Year Limited Extended Warranty
Comfort-R™ dehumidification
View more products from Lennox
View more products from Trane
Buy Today, Pay Over Time with HVAC Services
Invest in Your Home's Comfort and Energy Efficiency
Leave a request and we will advise you for free in the near future!
Why Should You Choose The HVAC Service Solutions?
5-Star Reviews
Satisfied customers give us great ratings
no wait guarantee
We're quick to help, so you won't be stuck waiting
24-hour support
Call us anytime, we're here for you
Up-front pricing
Clear and fair prices with regular rebates
What Our Customers are Saying about us:

Dee
10/10
When it comes to servicing and repairing heating systems, they are the greatest technicians I've ever worked with. My parents had scheduled a boiler inspection. Only them, I guess, can fix things. The whole process from ordering to installing my new heating system was excellent. Thanks!

Herb
10/10
About 10 days ago we had to turn to The HVAC Service because of our heater. Jason, the technician, finished everything fast, and he said the machine is going to perform well from here on out. Instead of saying "no, sorry, I have to go," he complied with our request for a water heater inspection. Each and every detail was examined carefully. Thankfully, there was no need for any repairs. The whole thing has beyond our expectations, and we would recommend them.

Kenton
10/10
To put it simply, they have talent. They are kind over the phone and provide a courtesy call 30 minutes before the technician is due to arrive. Chris stayed with us after he repaired our overheated furnace to ensure we understood how to maintain it properly and that his work would endure. Each and every one of the possible stars should be given to this service. Their tune-ups are excellent.

Brain
10/10
It was a catastrophe to move after checking the heating systems. The previous owners were concerned about possible boiler leaks and wanted to get them fixed quickly. With the assistance of The HVAC Service, we were able to. Dave showed on the same day for his scheduled visit. Dave was a pro at working with rusty pipes. Nothing; I'm hopeless when it comes to heating system repairs, and I've learned nothing from online tutorials. This company was referred to me when my tankless water heater started leaking. Their expert diagnosed the mineral deposit and fixed the problem effectively.

Malcom
10/10
Wow, that's very great! They were devoted to selling a good furnace, not the most expensive one, when I called them to buy one. My relief upon learning that competent installation was included into the price was palpable. After arriving at our place, he had everything up and running in within 90 minutes. Thanx.

Cletus
10/10
Professionals from The HVAC Service are always sent out swiftly to inspect and fix the heating systems (we have turned to this company thrice!). Chris fixed the broken limit switch on the furnace. Once he had inspected the furnace, he got to work with everything he needed. He changed out the machine's limit switch and cautioned us against neglecting it, saying that clogged filters would make further maintenance impossible. Good!

Mitchell
10/10
Without a doubt, I would recommend my friends and neighbors to use this service. Thank you for sending us a great technician like Derek. He is smart and acknowledgeable, and he quickly figured out why the Carrier boiler stopped heating water. He was quickly able to fix it. Awesome.

Benton
10/10
I've been using The HVAC Service for a couple of years and can say only good things about these guys. The service is always excellent. I told everyone about it, so now when my family or friends need help, they go to them. I can recommend this service because I believe in it.

Rory
10/10
I'd recommend Daniel, one of their techs. He is very good at what he does. He came right away when he got a phone call and fixed a Lennox AC. No questions asked, 5 points.

Stefan
10/10
Excellent work! Andrey is in charge of the installation, and I want to thank him for being helpful and doing a good job. Everything was done quickly and easily. The HVAC Service is 100% the best.

Louie
10/10
The HVAC Service is my choice. I always go to their experts when I have a problem. A water heater should only be fixed or put in by people who know what they are doing. Dave caught a broken-down Trane boiler in time to keep my house from catching fire.

Sid
10/10
If you haven't talked to The HVAC Service yet, you should. Don't worry if you don't know which to choose yet. You're in the best place to get help. Last week, Derek tuned up my new Carrier boiler. I've been happy every time.

Charley
10/10
Technician Derek, thanks for doing a good job. My Lennox furnace is no longer making noise. This company has the best people working for it.

Wilton
10/10
Thank you a lot. How many times have your people helped me with tech issues? Oh, countless, you are my personal magic wind. The last time Daniel fixed a Goodman furnace. While I was away, I didn't worry about my home because I knew it was fine.

Walton
10/10
This company is without a doubt the best when it comes to getting things done. You can be sure that the work will be done well and that the people who come to your house will do a good job. They only hire technicians who have gone to school and worked for a long time.

Hal
10/10
Excellent work! My water heater took a long time to heat up. My husband tried to fix it, but it didn't work. I was lucky to have The HVAC Service's number. The repairman came out the same day and quickly and easily fixed the Goodman water heater. We're both happy, me and my husband.

Mich
10/10
One of the wisest decisions I made was to purchase the humidifier from The HVAC Service. The HVAC Service. To begin with, their customer service representatives are always kind and helpful while responding to your questions. The guy who installed the system is very knowledgeable. My needs have been met to my complete satisfaction!
Erma
10/10
For my hotel company this company is the best - I just use their service to rent furnaces. When it comes to brands, they don't try to push on their customers and make them select one over another. Instead, they pay attention to what you want and go above and beyond. Exceptional professionalism and excellent customer service!
Leave a request and we will advise you for free in the near future!
Why Choose HVAC Service Solutions for Your Furnace Purchase in Toronto?
In Ontario's demanding climate, a dependable and robust heating system is a necessity. HVAC Service Solutions stands as a trusted local HVAC appliance dealer dedicated to ensuring your comfort. We collaborate with industry leaders like Lennox, Trane, and RunTru, offering access to their latest innovations at a fair price. Our commitment to excellence and our range of top-tier brands makes us your go-to source for reliable heating solutions. Don't settle for discomfort when the solution is HVAC Service Solutions!
The Importance of Upgrading Your Furnace
Upgrading your appliance is more than a mere decision. Aiming to buy a furnace in Toronto is an investment in your comfort, energy efficiency, and peace of mind. Here are the key benefits that come with upgrading your heating:
Enhanced Efficiency
Newer furnaces boast higher energy efficiency ratings, resulting in lower utility bills.
Improved Comfort
Advanced technologies ensure even heating and better temperature control.
Reduced Carbon Footprint
Modern furnaces are designed with environmental impact in mind, reducing emissions and energy consumption.
Quieter Operation
Newer models operate more quietly, creating a quieter and more comfortable living environment.
Reliability
Upgraded furnaces are less prone to breakdowns, providing consistent warmth during harsh winters.
Smart Thermostat Compatibility
Many new furnaces can be integrated with smart thermostats for optimal control and convenience.
Increased Home Value
An upgraded heating system adds value to your home, making it an attractive proposition for potential buyers.
Different Types of Furnaces Available and What is Suitable Based on Your House and Needs?
Furnaces come in various types, each catering to specific needs and preferences. When you are ready to buy a furnace in Toronto, think about factors such as fuel type, size, and energy efficiency certification:
Let's explore different fuel types:
Gas Furnaces
Cost-effective and widely used, suitable for areas with access to natural gas.
Electric Furnaces
Ideal for regions where gas is not available, offering efficient heating.
Oil Furnaces
Suitable for areas with limited gas access, known for their powerful heating capability.
Propane Furnaces
A versatile option, often used in rural areas with access to propane fuel.
Now, let's explore the sizes and energy efficiency:

Size Matters:
Selecting the appropriate furnace size is pivotal to achieving optimal heating efficiency and avoiding unnecessary energy consumption. Furnaces come in various sizes, typically measured in British Thermal Units (BTUs). An undersized furnace struggles to heat your space adequately, leading to discomfort and higher bills. Conversely, an oversized furnace cycles on and off frequently, wasting energy and causing temperature fluctuations. To determine the right size, consider factors such as the square footage of your home, insulation levels, ceiling height, and climate conditions. Consulting with HVAC professionals ensures accurate sizing, ensuring your furnace operates at its best and your home stays consistently cozy.

Energy Efficiency:
When seeking a furnace upgrade, prioritizing energy efficiency is a wise choice. Look for furnaces bearing the ENERGY STAR certification – a globally recognized symbol of energy efficiency. This certification signifies that the furnace meets strict energy efficiency guidelines set by environmental protection agencies. ENERGY STAR-certified furnaces consume less energy, translating into reduced utility bills and a smaller carbon footprint. These furnaces are designed with advanced technologies that optimize heating performance while minimizing energy wastage. By choosing an ENERGY STAR-certified furnace, you're not only enhancing your comfort but also contributing to a more sustainable environment.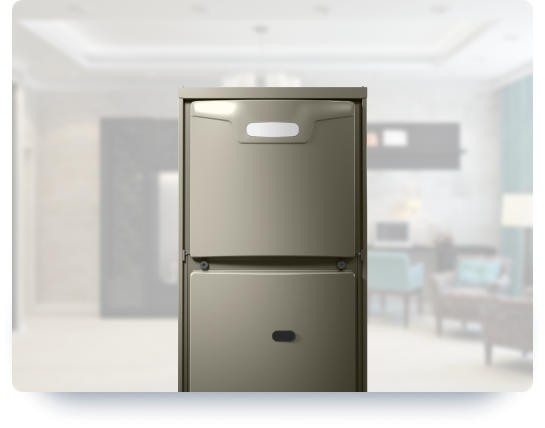 What Else to Consider While Buying a New Furnace in Toronto
When you want to upgrade and buy a furnace in Toronto, brands matter as well. At HVAC Service Solutions we offer appliances from trusted names like Lennox, Trane, and RunTru. With a rich history of precision engineering, Lennox has been a cornerstone of home comfort since 1895, consistently pushing the boundaries of innovation. Trane, founded in 1885, has a legacy of pioneering air conditioning and heating systems, revolutionizing the way we experience indoor comfort. RunTru, an offshoot of Trane, combines decades of expertise with affordability, ensuring top-notch performance without breaking the bank. Investing in a furnace from these industry leaders is a long-term commitment to comfort, performance, and reliability. Your home deserves nothing less.
Advantages of the Professional Installation by HVAC Service Solutions in Toronto
Professional installation is crucial to maximizing the longevity and performance of your furnace. Our installation process at HVAC Service Solutions includes:
Sizing Assessment
Determining the right furnace size for your home's heating needs.
Expert Placement
Installing the furnace in an optimal location for efficient operation.
Precision Wiring
Ensuring accurate and safe electrical connections.
Airflow Optimization
Proper ductwork and airflow adjustments for consistent heating.
Thorough Testing
Rigorous testing to verify proper operation and performance.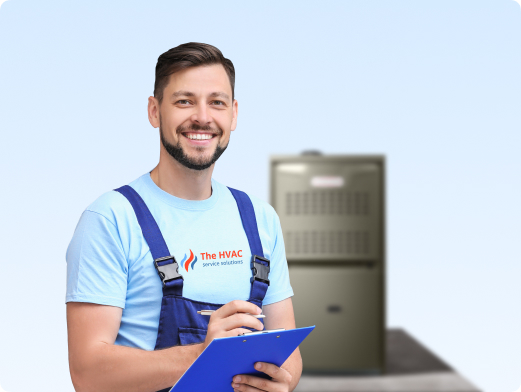 How Much Does a New Furnace Cost in Toronto Including Installation?
The cost of a new furnace, including installation, varies based on factors such as the furnace model, size, installation complexity, and additional features. It's recommended to consult with our experts for a personalized estimate that takes these factors into account. Investing in the right furnace is an investment in long-term comfort and energy savings. By choosing HVAC Service Solutions for your furnace needs, you're not just getting a heating appliance – you're getting a partner dedicated to your warmth, comfort, and satisfaction.
How to Save Up on the New High-Efficient Furnace with Government Rebate Programs
How to Save Up on the New High-Efficient Furnace with Government Rebate Programs
Excitingly, there's a way to make upgrading your furnace even more rewarding. Government rebate programs, such as the Home Efficiency Rebate Plus (HER+) program, offer rebates of up to $10000 for furnaces in Ontario. These programs aim to enhance energy efficiency, lower the environmental impact of heating and provide financial incentives for homeowners. To delve deeper into this opportunity, consider reading our detailed article on how to save money with Government Furnace Rebates in Ontario, so you don't have to waste your time on research. By taking advantage of these programs, you can make a smart investment in both your comfort and your wallet. Contact us today to explore our range of top-tier brands and embark on a journey toward a more comfortable and efficient home heating experience.
Leave a request and we will advise you for free in the near future!
About HVAC Service Solutions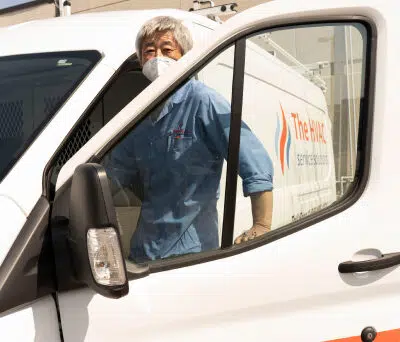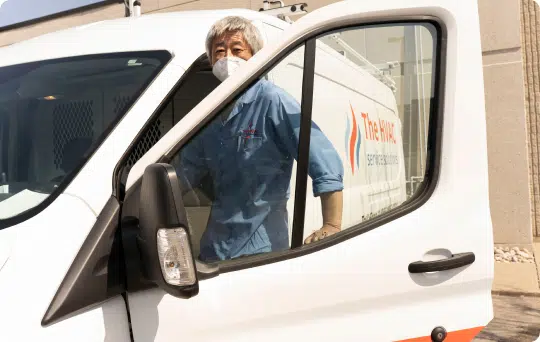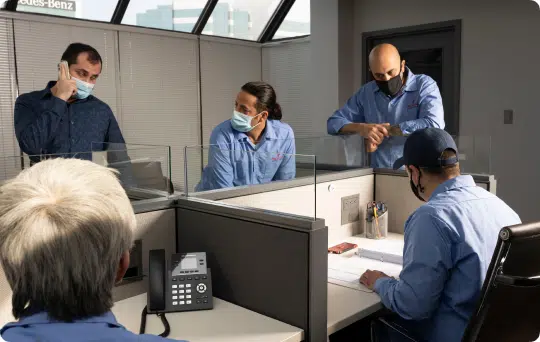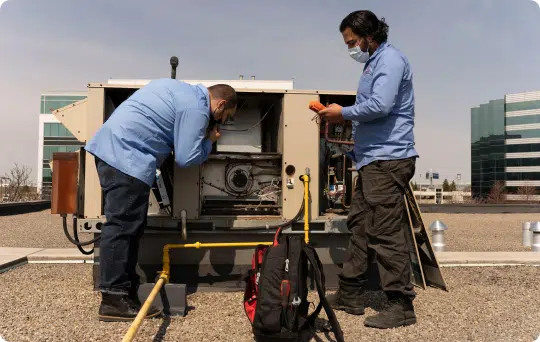 We are HVAC Service Solutions, your friendly neighborhood HVAC contractor. We've been providing top-notch HVAC solutions to homes and businesses in our community since 1992.
Do you know who trusts us? Your neighbors! We have more than 1000 positive 5-star reviews from clients all over Ontario. We have more than 40 service centers in the area, so we are quick to help!
We work with over 30 of the best brands in the industry, so you can be sure that we've got you covered when it comes to rental, installation, maintenance, or repair services. Our experienced Lennox-trained technicians can handle all types of HVAC systems:
You name it, we can fix it!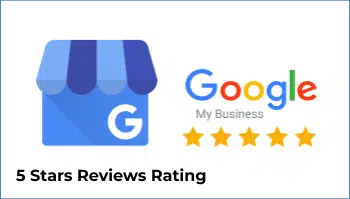 Leave a request and we will advise you for free in the near future!
Areas We Service in Canada
Leave a request and we will advise you for free in the near future!