Looking For a Perfect New Furnace in Canada?
We know which unit is suitable for you!
GET UP TO $1 600 REBATES ON A NEW FURNACE
Furnace for Sale in Canada

Efficiency Rating (AFUE): 96
ENERGY STAR® Qualified
10-Year Limited Extended Warranty
Power Saver™ constant-torque motor

Efficiency Rating (AFUE): 96
ENERGY STAR® Qualified
10-Year Limited Extended Warranty
Variable speed (ECM) motor

Efficiency Rating (AFUE): 96
ENERGY STAR® Qualified
10-Year Limited Extended Warranty
SureLight® Silicon Nitride Ignitor

Efficiency Rating (AFUE): 96
ENERGY STAR® Qualified
10-Year Limited Extended Warranty
CleanEffects™ advanced air filtration

Efficiency Rating (AFUE): 99
ENERGY STAR® Qualified
10-Year Limited Extended Warranty
SilentComfort™ Technology

Efficiency Rating (AFUE): 97
ENERGY STAR® Qualified
10-Year Limited Extended Warranty
Comfort-R™ dehumidification
View more products from Lennox
View more products from Trane
Take Advantage of Our New Promo
Leave a request and we will advise you for free in the near future!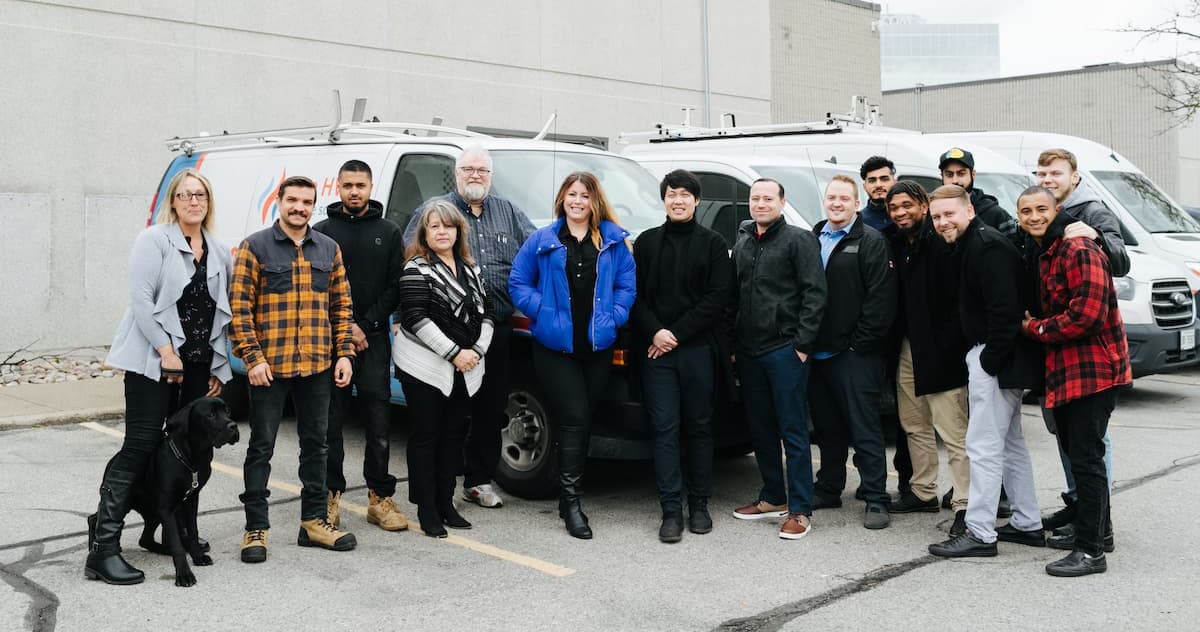 Here's How Buy Furnace Service Works
Four easy steps to get your HVAC solution

Schedule a free in-home assessment
Call us or fill out the Get Free Price Quote form above to schedule your assessment.

In-home visit with HVAC Specialist
One of our consultants will come to your home and complete no-cost, no-obligation assessment.

After choosing a solution, our consultant will book an installation appointment that works with your schedule.

Maintaining your equipment
Schedule furnace maintenance at least twice a year to ensure its top shape performance.
Find & Buy a New Furnace in Canada
Whether you're in need of a new installation or a repair for your existing system, we are here to help. Contact us today to schedule an appointment.
What Our Customers are Saying about us:

Dee
10/10
When it comes to servicing and repairing heating systems, they are the greatest technicians I've ever worked with. My parents had scheduled a boiler inspection. Only them, I guess, can fix things. The whole process from ordering to installing my new heating system was excellent. Thanks!

Herb
10/10
About 10 days ago we had to turn to The HVAC Service because of our heater. Jason, the technician, finished everything fast, and he said the machine is going to perform well from here on out. Instead of saying "no, sorry, I have to go," he complied with our request for a water heater inspection. Each and every detail was examined carefully. Thankfully, there was no need for any repairs. The whole thing has beyond our expectations, and we would recommend them.

Kenton
10/10
To put it simply, they have talent. They are kind over the phone and provide a courtesy call 30 minutes before the technician is due to arrive. Chris stayed with us after he repaired our overheated furnace to ensure we understood how to maintain it properly and that his work would endure. Each and every one of the possible stars should be given to this service. Their tune-ups are excellent.

Brain
10/10
It was a catastrophe to move after checking the heating systems. The previous owners were concerned about possible boiler leaks and wanted to get them fixed quickly. With the assistance of The HVAC Service, we were able to. Dave showed on the same day for his scheduled visit. Dave was a pro at working with rusty pipes. Nothing; I'm hopeless when it comes to heating system repairs, and I've learned nothing from online tutorials. This company was referred to me when my tankless water heater started leaking. Their expert diagnosed the mineral deposit and fixed the problem effectively.

Malcom
10/10
Wow, that's very great! They were devoted to selling a good furnace, not the most expensive one, when I called them to buy one. My relief upon learning that competent installation was included into the price was palpable. After arriving at our place, he had everything up and running in within 90 minutes. Thanx.

Cletus
10/10
Professionals from The HVAC Service are always sent out swiftly to inspect and fix the heating systems (we have turned to this company thrice!). Chris fixed the broken limit switch on the furnace. Once he had inspected the furnace, he got to work with everything he needed. He changed out the machine's limit switch and cautioned us against neglecting it, saying that clogged filters would make further maintenance impossible. Good!

Mitchell
10/10
Without a doubt, I would recommend my friends and neighbors to use this service. Thank you for sending us a great technician like Derek. He is smart and acknowledgeable, and he quickly figured out why the Carrier boiler stopped heating water. He was quickly able to fix it. Awesome.

Benton
10/10
I've been using The HVAC Service for a couple of years and can say only good things about these guys. The service is always excellent. I told everyone about it, so now when my family or friends need help, they go to them. I can recommend this service because I believe in it.

Rory
10/10
I'd recommend Daniel, one of their techs. He is very good at what he does. He came right away when he got a phone call and fixed a Lennox AC. No questions asked, 5 points.

Stefan
10/10
Excellent work! Andrey is in charge of the installation, and I want to thank him for being helpful and doing a good job. Everything was done quickly and easily. The HVAC Service is 100% the best.

Louie
10/10
The HVAC Service is my choice. I always go to their experts when I have a problem. A water heater should only be fixed or put in by people who know what they are doing. Dave caught a broken-down Trane boiler in time to keep my house from catching fire.

Sid
10/10
If you haven't talked to The HVAC Service yet, you should. Don't worry if you don't know which to choose yet. You're in the best place to get help. Last week, Derek tuned up my new Carrier boiler. I've been happy every time.

Charley
10/10
Technician Derek, thanks for doing a good job. My Lennox furnace is no longer making noise. This company has the best people working for it.

Wilton
10/10
Thank you a lot. How many times have your people helped me with tech issues? Oh, countless, you are my personal magic wind. The last time Daniel fixed a Goodman furnace. While I was away, I didn't worry about my home because I knew it was fine.

Walton
10/10
This company is without a doubt the best when it comes to getting things done. You can be sure that the work will be done well and that the people who come to your house will do a good job. They only hire technicians who have gone to school and worked for a long time.

Hal
10/10
Excellent work! My water heater took a long time to heat up. My husband tried to fix it, but it didn't work. I was lucky to have The HVAC Service's number. The repairman came out the same day and quickly and easily fixed the Goodman water heater. We're both happy, me and my husband.

Mich
10/10
One of the wisest decisions I made was to purchase the humidifier from The HVAC Service. The HVAC Service. To begin with, their customer service representatives are always kind and helpful while responding to your questions. The guy who installed the system is very knowledgeable. My needs have been met to my complete satisfaction!
Erma
10/10
For my hotel company this company is the best - I just use their service to rent furnaces. When it comes to brands, they don't try to push on their customers and make them select one over another. Instead, they pay attention to what you want and go above and beyond. Exceptional professionalism and excellent customer service!
Take advantage of these great offers
Order professional HVAC repair
Areas We Service in Canada
Find the closest location by choosing your city below or applying the Postal code
Enter your City to find services near you:
How To Choose What Furnace to Buy
When you need to buy a furnace in Canada, you may expect it to be a daunting task. At HVAC Service Solutions, we understand the challenges that come with making this decision. We're here to help you every step of the way, offering professional advice and guidance to ensure you make the best choice for your heating needs. When considering to buy a new furnace, here are some key criteria to keep in mind:
Size Matters
Assess your home's size and heating needs to determine the appropriate furnace size.
Fuel Type
Decide between gas, electric, or hybrid furnaces based on your energy source and efficiency preferences.
Energy Efficiency
Opt for a furnace with a high energy efficiency rating to reduce operating costs.
Quality and Brand
Prioritize reputable brands known for dependable furnaces.
Warranty Coverage
Ensure your chosen unit comes with a comprehensive warranty for long-term peace of mind.
Budget Considerations
Stay within your budget while balancing the features you need.
When it comes to choosing to buy a furnace in Canada, trust HVAC Service Solutions, your reliable dealer of top-tier tankless water heaters in Canada. Contact us today to get started on your journey to a more efficient and comfortable home.
Buy a Furnace - a Reliable Unit for Decades to Come
At HVAC Service Solutions, we take pride in offering top-tier HVAC solutions that we would choose for ourselves. We work with top-notch brands, like Lennox, Trane, and RunTru, providing you with a vast choice of HVAC. Check out our list if you are in the market to buy a new furnace!
However, to buy a new furnace is only one piece of the puzzle. To ensure your furnace operates at its best for years to come, it's crucial to provide proper maintenance. That's where our convenient maintenance plans come in. Designed to work like a monthly subscription for your comfort, these plans offer an affordable fee that covers most parts and labor expenses. Think of us as your furnace's personal trainers, ensuring it stays in peak condition, and providing you with comfort and peace of mind.
Professional Installation of Furnaces in Canada
To buy a reliable furnace is just the first step of your heating journey. Proper installation is equally, if not more, important. Carelessly done installation can not only affect the furnace's performance but also its safety. At HVAC Service Solutions, our professional team is dedicated to ensuring that every installation is carried out with the utmost precision and care.
We understand the unique requirements of furnaces in the Canadian climate. Our team is well-versed in the installation of furnaces in Ontario, considering factors like energy efficiency and safety. When you choose HVAC Service Solutions, you can rest assured that your furnace will be installed correctly and efficiently, providing you with reliable heating for years to come.
Choose HVAC Service Solutions, a Reliable Furnace Dealer in Ontario
Decades of Experience:
For years, we have been serving the heating needs of homeowners across Ontario, building lasting relationships with our clients. Our experience allows us to understand the unique heating challenges faced by residents in this region, ensuring we offer tailored solutions that meet their specific requirements.
Client-Centric Approach:
At HVAC Service Solutions, we believe in treating our clients like old friends. Our client-centric approach places your comfort, safety, and satisfaction at the forefront of everything we do. We understand that every home is unique, and heating requirements can vary. That's why we take a personalized approach to ensure your heating system perfectly matches your needs.
Partnerships with Top HVAC Brands:
As official partners with industry leaders like Lennox, Trane, and RunTru, we have access to the latest and most innovative furnace models on the market. These partnerships enable us to offer you cutting-edge heating solutions that prioritize energy efficiency, reliability, and performance. Our partnerships with top-tier HVAC brands demonstrate our commitment to providing you with the best products available.
Certified Technicians:
All our technicians undergo rigorous training, examination, and certification by Lennox themselves. This certification ensures that our team possesses the expertise needed to address any HVAC-related issue, from installation to maintenance and repairs. When you choose HVAC Service Solutions, you're choosing a team of experts who have been recognized and certified by one of the industry's most reputable names. Our certified technicians have the knowledge and skills to handle even the most complex HVAC challenges, delivering reliable and effective solutions.
Comprehensive HVAC Services:
Whether you need to buy a new furnace, rent one, or require maintenance or repairs for your existing unit, HVAC Service Solutions is your one-stop shop for all your HVAC needs. We aim to simplify your HVAC experience, providing convenience and peace of mind. Our comprehensive range of services ensures that you can rely on us for any HVAC-related requirement.
Contact HVAC Service Solutions today to discover a new level of comfort and reliability for your home. Don't look further if you need to buy a new furnace!
About HVAC Service Solutions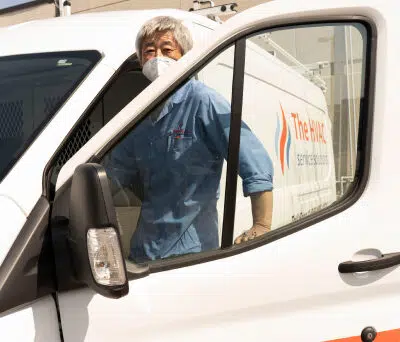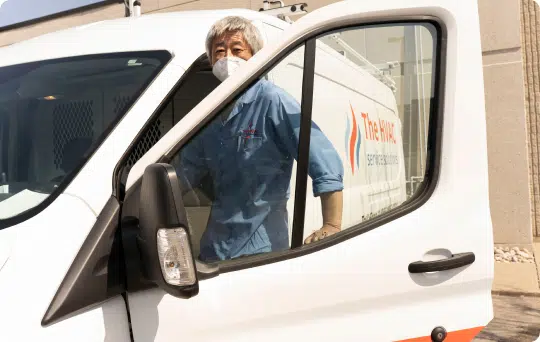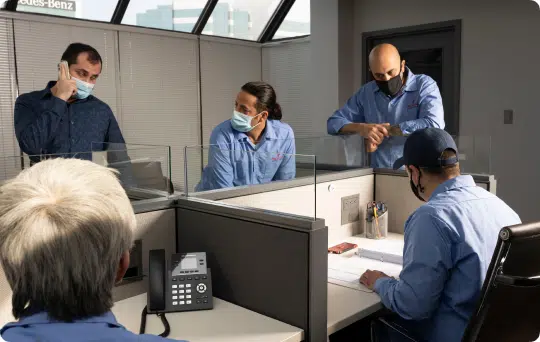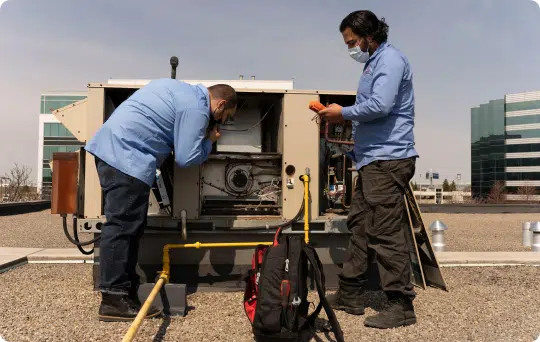 We are HVAC Service Solutions, your friendly neighborhood HVAC contractor. We've been providing top-notch HVAC solutions to homes and businesses in our community since 1992.
Do you know who trusts us? Your neighbors! We have more than 1000 positive 5-star reviews from clients all over Ontario. We have more than 40 service centers in the area, so we are quick to help!
We work with over 30 of the best brands in the industry, so you can be sure that we've got you covered when it comes to rental, installation, maintenance, or repair services. Our experienced Lennox-trained technicians can handle all types of HVAC systems:
You name it, we can fix it!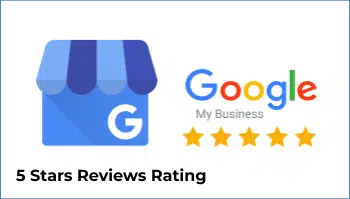 Leave a request and we will advise you for free in the near future!
Furnaces produce heat more steadily compared with other types of heating equipment. According to ENERGYSTAR.gov, temperatures at home should vary between 21 and 25 degrees Celsius to stay active, comfortable and healthy. In this case, a furnace with a thermostat would be helpful to keep these numbers in balance. Here are some other reasons for furnace installation at your home. 
House warms up quickly

Enhanced indoor air quality

Higher affordability compared with other equipment 

Different fuel options: gas, oil or electricity
Furnaces proved their ultimate efficiency for houses in freezing climate zones. Follow the link to find perfectly suited equipment for your home.
The average system lifespan is usually around 10–15 years. These numbers may vary, depending on how well your equipment was maintained. If you are considering repairing an old furnace of 10+ years service or buying a new furnace, our team recommends the latter option. Why is it better? 
New equipment requires fewer repairs, which saves you money.

Modern furnaces have a higher Annual Fuel Utilization Efficiency rate to provide more extensive amounts of heat using less energy.

This equipment is more eco-friendly than older ones.

New furnaces produce less noise and have enhanced airflow.
The HVAC Service Solutions is an official Trane and Lennox dealer. Our team would be glad to recommend the best options for your home. 
Furnaces are considered to be one of the most efficient heating equipment. According to the latest Canadian regulations, they must have at least a 95 AFUE rating. This means that they will require less energy to produce enough heat. After buying a furnace online at the HVAC Service Solutions, you will receive: 
24/7 of HVAC experts support

Special offers from Trane and Lennox brands

A professional team to provide efficient services

60+ service areas to find HVAC office near you
Want to learn more about different furnaces? Follow the link below and find the best variant for your home.
The HVAC Service Solutions regularly works to make your home a more comfortable place to live. If you consider renting a furnace, you will get the following bonuses.
24/7 tech support

Energy-saving models

Extended warranty for free 

Included maintenance and protection plans

Zero installation, maintenance, or repair costs

Services done by Trane and Lennox certified technicians 
Our team also has special limited-time offers such as six months of rent for the free, smart thermostat as a gift or a full diagnostic for $99 only. Visit our website to get the best proposals. 
The HVAC Service Solutions is ready to provide you with beneficial rental programs. If you're interested in them, fill out the request form above. 
The HVAC Service Solutions is an official Trane and Lennox dealer with different furnaces for sale in Canada. In addition to highly efficient equipment ordered online, you will receive:
24/7 request processing

Efficient same day furnace installation

Technician services from 8 am to 10 pm in 38 cities of Canada

Professional team authorized and certified by Trane and Lennox

Additional offers which are regularly added to our official website
Buying a furnace online saves you time and money. You can compare different equipment characteristics and prices to find the one that satisfies you most. Moreover, our HVAC experts will help you during the purchasing process.