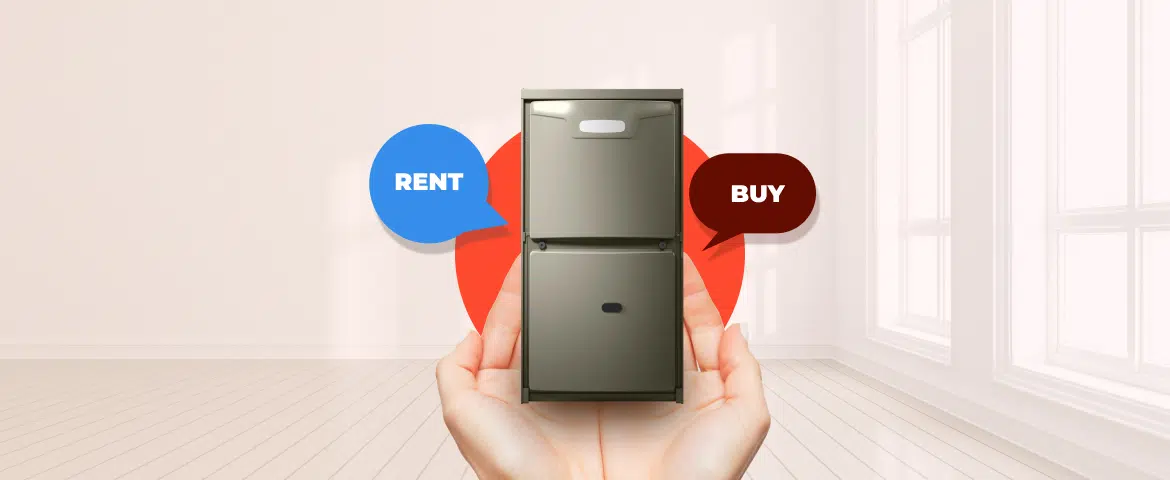 Furnace is a crucial component of any Canadian home during the cold seasons, producing heat to keep the indoors at a comfortable temperature. It is a popular choice for heating due to their reliability and effectiveness.
However, when it comes to considering whether to rent or buy a furnace, the decision can be challenging. Fear not, the HVAC Service Solution is here to help.
In this article, we will guide you through the best options for your particular situation. Read on to discover the most suitable solution for your home heating needs.
How much does it cost to rent a furnace?
Furnace rental programs can be completely different in various cities and companies. They may include different options, propose additional offers, and include their unique terms. Monthly payments in all cases usually start from $50. This price varies according to the following factors.
Efficiency level. This characteristic is measured in AFUE, where the most efficient equipment has more than 95%. Furnaces with higher rates can save you approximately 30% on energy bills.
Furnace size. BTUs show the equipment size that will be able to heat the furthest corners of your house. HVAC experts recommend counting from 30 to 60 BTUs for each square foot.
HVAC contractor. Rental programs include unique terms that can be more or less acceptable for you. Examine them in detail if you want to find the one that fits your desires and budget.
The HVAC Service Solution can help you find the desired option. Schedule a consultation via the link below to learn all the unique features of our rental programs.
How much does a furnace cost?
The average furnace cost starts from $4,000 with installation included. This sum may vary depending on the size of your house, efficiency level, fuel type or the area you live in. Let's examine these factors in detail.
Home Size. Each square foot of your apartment requires at least 20 BTUs. This means that small rooms of 100-250 square feet need a 5,000–6,000 BTU unit.
Efficiency Level. This parameter is measured in Annual Fuel Utilization Efficiency (AFUE). Most Canadian households have furnaces with 95%+ AFUE, which are more energy-efficient.
Household Area. People in rural regions far from major cities tend to pay more for furnace installation because of the small number of competitors, complicated supply chains, etc.
Fuel Type. Furnace costs vary from $3,000 to $7,500+ depending on oil, electricity, natural gas or propane fuel sources.
The HVAC Service Solution team researched the latest prices in Canada, considering all factors above. Let's observe them.
| | Average price, including installation |
| --- | --- |
| | |
| | |
| | |
| | |
AFUE rate determines your system efficiency. Furnaces with higher rates will cost more, however they can also save approximately 30% on your energy bills in the future. Since they are eco-friendly, you can additionally ask for rebates. You can compare the interdependence between AFUE rates and furnace prices in the table below.
| Annual Fuel Utilization Efficiency | Furnace price, including installation |
| --- | --- |
| | |
| | |
| | |
| | |
Fuel sources can impact furnace prices significantly. Oil and electricity are the cheapest among the others. Natural gas and propane are on a similar rank, but the latter can be higher as it is usually installed in rural areas.
| | Furnace price, including installation |
| --- | --- |
| | |
| | |
| | |
| | |
Furnace installation requires a professional assessment from HVAC experts. They will consider your home parameters, needs and budget to find the perfect solution for your case. Contact us via the link below to schedule a free consultation.
The discussion on renting vs buying a furnace is a topic for endless debate between HVAC clients. Some people say that renting always includes overpaying, while others say that buying is too expensive. Our team believes that both options are good. Let's discover the main pros and cons of renting.
The main advantages of rental programs include the following.
One company. The same contractor does all services.
Monthly payments. They usually vary from $50 to $100+.
Zero upfront costs. You don't need to pay anything in advance.
Free services. The company covers expenses for installation, repair and maintenance.
Rent-to-own or transferable agreements. You can buy the equipment you rent or transfer it to another person in case of moving.
The list of disadvantages consists of the following points.
Monthly payments. The rental prices can become higher with time.
Significant overpaying. You may lose approximately $2,000 during the system lifespan if you stay at the same apartment for a long time.
Same contractor. It is impossible to change the company if you are unsatisfied with their services.
Complicated selling. Furnace rental is included in the house price, so it can cause difficulties when selling the apartment.
Schedule a free consultation with the HVAC expert via the link below to consider all pros and cons of renting in your case.
Even though buying sometimes seems to be a more appealing option than renting, it also has its pros and cons. Let's consider them in detail below.
The advantages of buying a furnace include the following elements.
Rebates. You can save $1,000+ on rebates from the government or other organizations.
Flexibility. You can hire another contractor whenever you want if you are not satisfied with their work.
Plans. The company offers you maintenance and protection plans to remain confident in systems efficiency.
Some disadvantages include the following:
Upfront costs. You may need to pay a big sum in advance.
Expensive equipment. It may be difficult to spend a lot of money at once.
Costly services. You will pay for installation, repair and maintenance by yourself.
The HVAC Service Solutions can help you decide on a free consultation. Schedule it via the link below to receive the best solution for your house.
Final thoughts on renting or buying a furnace
To sum up, buying can be more suitable for people who are ready to pay the whole sum at once and remain at the same place for a long time. If you are constantly moving from house to house, choose a rental program from a reliable HVAC contractor.
The HVAC Service Solutions team can guide you when considering these two options. Our certified and trained technicians take into account the smallest details to find a solution that benefits you. Choose any of the buttons below to contact us. We will answer all your questions 24/7.