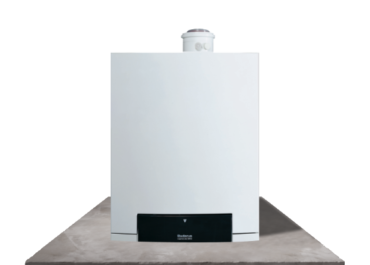 Wall-Mounted Gas Condensing Boiler Buderus GB142 Series Capacity 104,000 BTU
The GB142 condensing boiler from Buderus is an impressive display of both efficiency and longevity. The advanced flue circuit of the GB142/45 works with the included modulating burner to extract every last BTU of heat energy out of the flue gas that comes into your home. The small size of the GB142 combined with its minimal installation clearances gives you astounding installation flexibility. Included with the boiler is a low-loss header, an internal manifold that guarantees proper fluid flow through the inside of the boiler at all times.
CondensingTechnology Improves Efficiency
The GB142 is a condensing boiler, using the leftover energy in the boiler's flue exhaust to further heat your home. Keep your home warmer for less energy cost!
Included AM10 Outdoor Reset and DHW Sensor
The GB142 line of boilers includes an AM10 outdoor reset control for optimal efficiency during temperate months and a DHW sensor for direct control of an indirect hot water tank.
Prefabricated Low-Loss Header
The GB142 comes with an internal low-loss header pre-installed. It ensures proper fluid flow rate throughout the unit, extending operation lifetime and bringing installation time down to an absolute minimum.
Small Size and Low Installation Clearances
Low installation clearances on all sides, wall mounting configuration, and small footprint translate into a boiler that can be installed almost anywhere.
Model

GB142

Fuel Type

Natural Gas

Combustion Type

Condensing

Vent Type

Direct Vent

Modulating/Staging

Modulating

Mount Type

Wall

Minimum Altitude

0 Feet

Maximum Altitude

2000 Feet

Includes Pump

Yes

AFUE

95%

Maximum Input Capacity

160900 BTU

Minimum Input Capacity

42500 BTU

DOE Heating Capacity

142000 BTU

Net I=B=R Capacity

124000 BTU

Ultra Low NOx Emissions

Yes

Voltage

120 Volts

Phase

1

Frequency

60 Hz

Flue Connection Size

3 Inches

Gas Connection Size

3/4 Inch

Supply Connection

1 Inch

Return Connection

1 Inch

Product Height

28 Inches

Product Width

35 1/2 Inches

Product Depth

18 3/4 Inches

Product Weight

143 Pounds

CSA Listed

Yes

ASME Certified

Yes
5-Star Reviews
Satisfied customers give us great ratings
no wait guarantee
We're quick to help, so you won't be stuck waiting
24-hour support
Call us anytime, we're here for you
Up-front pricing
Clear and fair prices with regular rebates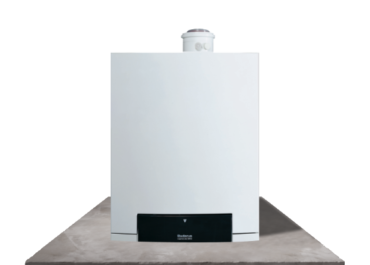 Wall-Mounted Gas Condensing Boiler Buderus GB142 Series Capacity 104,000 BTU
Buderus AG is the holding company for the German Buderus concern, best known for three main divisions producing steel, cast iron pipe systems, and heating systems. The Heating Products division, Buderus Heiztechnik, produces furnaces, burners, boilers, solar heating systems, and heating control systems and supplies.
Leave a request and we will advise you for free in the near future!