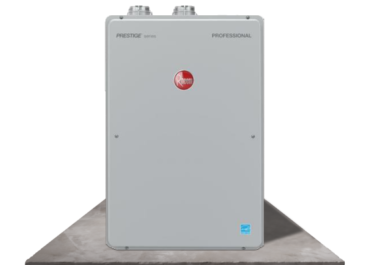 Tankless Water Heater RHEEM Professional Prestige Series Capacity 199,000 BTU
Rheem Prestige RTGH is a series of high-efficiency condensing tankless gas water heaters designed for continuous hot water.
Efficiency
94 UEF — US
96  EF — Canada
with dual stainless steel condensing heat exchanger
Performance
Max GPM of 11 (on 199K BTU models)
Instant Hot Water at the Tap
Programmable time-based activation
Save Time on Installation with Built-in Pump
Reduces Water Waste
Easy Installation and Service
Vents with PVC up to 100′ (3″) and 50′ (2″)
Common Vent Two Units Fewer wall penetrations, easier to install, and more flexible options
1/2″ Gas line compatibility
Compatible with Room Air Intake More install options and faster to install
High Altitude Compliant
High-altitude capability – up to 8,400 ft. elevation above sea level
Low Emissions
Environmentally Friendly ultra-low NOx burner meets SCAQMD rule 1146.2 requirements
Safety
Flame Sensor
Overheat Cut Off Limit Switch
Gas Leak Detector sensor
Water Leak Detector Sensor
Exhaust Temperature Sensor
Water Temperature Sensor
Model

CRGTH95DVLN2

Maximum Input Capacity (BTU)

199900

Minimum Input Capacity (BTU)

11000

Maximum Flow Rate

11 GPM

Minimum Flow Rate

0.26 GPM

Water Heater Depth (inches)

9.8

Fuel Source

Natural Gas

Installation Location

Indoor

Product Depth (in.)

9.75″

Product Height (in.)

27.5″

Product Width (in.)

18.5″

Water Connection

3/4 Inch
5-Star Reviews
Satisfied customers give us great ratings
no wait guarantee
We're quick to help, so you won't be stuck waiting
24-hour support
Call us anytime, we're here for you
Up-front pricing
Clear and fair prices with regular rebates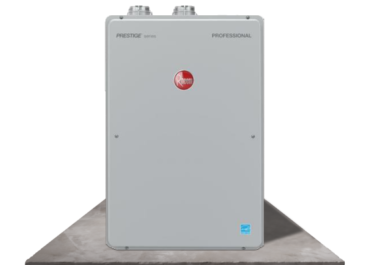 Tankless Water Heater RHEEM Professional Prestige Series Capacity 199,000 BTU
In a crowded HVAC industry, Rheem was known for being a brand with quite vivid history. The Rheem Manufacturing Factory was created by brothers Richard and Donald Rheem in 1925 in California. At first, factory lines were set to manufacture everything from steel shipping containers to musical instruments. However, in the 1930-s Rheem started producing gas-storage water heaters and quickly changed lanes to become an HVAC manufacturer.
Now, Rheem is known as North America's biggest HVAC manufacturer of water-heating appliances. They produce general heating, water heating, and cooling equipment and appliances for SPA and commercial refrigeration.
As a trusted resource for HVAC services, we are committed to providing the latest Rheem products at competitive prices. Our experienced technicians have the skills and expertise to deliver exceptional maintenance and repair services, ensuring your Rheem HVAC system operates efficiently and reliably, keeping you comfortable all year long.
Leave a request and we will advise you for free in the near future!