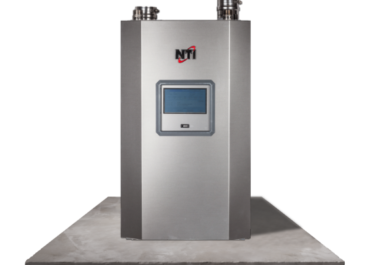 Condensing Boiler NTI TFT Series Capacity 110,000 BTU
The TFT is the top quality choice for both residential or light commercial applications. The high-performance stainless steel down-fired fire tube heat exchanger and the top and bottom stainless steel piping connections, offer supreme durability and flexibility of installation. The TFT reigns supreme with its unique mix of outstanding performances and legendary reliability.
NTI TFT-110 comes with an LP adapter kit. Sealed modulation combustion system. Constructed using 439 stainless steel heat exchanger. All stainless steel internal piping. Wall or floor mounting. The iFlex control interface provides easy navigation and set up with a 2.4″ display. Self-diagnostic display with lead-lag capability. The flexible design allows for plumbing and gas connections either at the top or bottom of the boiler. High-quality appliance finish.
Model

TFT

AFUE

95%

Fuel Type

Natural Gas

Series

Trinity Firetube

Boiler Type

Residential

BTU Input Range

100,000 – 150,000

BTU Input

108,000

Venting Type

Power Vent
5-Star Reviews
Satisfied customers give us great ratings
no wait guarantee
We're quick to help, so you won't be stuck waiting
24-hour support
Call us anytime, we're here for you
Up-front pricing
Clear and fair prices with regular rebates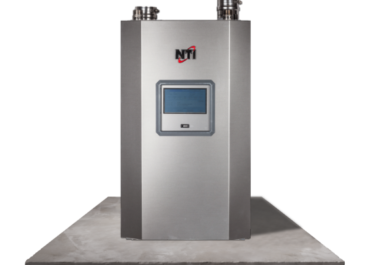 Condensing Boiler NTI TFT Series Capacity 110,000 BTU
NTI Global or NTI, established in 1983, has come a long way from its humble beginnings as a small industrial sewing shop. Today, it has evolved into a global supplier of converted textiles. Specializing in various industries, NTI offers an impressive range of products. From temporary HVAC ducting and aviation ducting to MIL-spec ducting, they cater to diverse needs. Their expertise extends to custom projects like equipment jackets and windmill insulators. Customers choose NTI for their exceptional quality, reliability, and customized solutions.
As a reliable NTI Global dealer, HVAC Service Solutions offers innovative products for a fair price. Moreover, we are glad to help you not only choose but maintain your NTI appliances in the best shape, as we offer exceptional HVAC maintenance and repair services!
Leave a request and we will advise you for free in the near future!