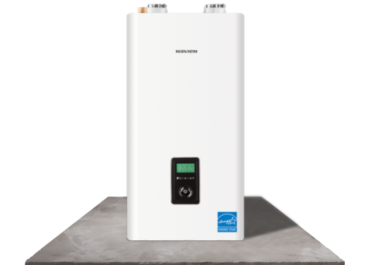 Condensing Boiler Navien NFC Series Capacity 175,000 BTU
The Navien NFC (Navien Firetube Combi) boiler is one heck of a performer for a combi-boiler. I have made a list of details I would recommend changing, I'll list them below. This is the only combi that I have experience with that will handle any typical three-bathroom home. The DHW production is very impressive.
This model combi has a modular piping arrangement that is removable for service if needed, which is a huge improvement over the previous model NCB boiler (they're going that route with the new NPE and NCB in 2020).
Navien designed and manufacturers all stainless steel heat exchangers in-house, this isn't common of most boiler manufacturers. Having complete control over all aspects of the boiler is what tends to set companies apart from others. In this case, it's too early to tell if they've got an advantage here since the new boiler and Combi have only been on the market for less than two years.
The control for the NFC [and NFB] boiler is the first we have seen from Navien with a plain English line-by-line display. A huge step forward when compared to previous code display models.
Model

NFC

AFUE

95.0%

Fuel Type

Liquid Propane/Natural Gas

Dimensions

17.3″ W x 33.5″ H x 17.3″ D (43.9cm W x 85.1cm H x 43.9cm D)

Boiler weight

145 lbs (65.8 kg)

Boiler Weight With Water

183 lbs (83.007 kg)

Installation Type

Indoor wall-hung

Heating Capacity

161 MBH (47.2 kWh)

DHW

18,000 – 199,900 BTU/H (5.274 – 58.571 kWh)

Net AHRI Rating, Water

140 MBH (41 kWh)

Water Connection Size (Supply, Return)

1″ NPT

Water Volume (gallons)

4.5

Safety Devices

Flame rod, APS, Ignition operation detector, Water temperature high limit switch, Exhaust temperature high limit sensor, Water pressure sensor
5-Star Reviews
Satisfied customers give us great ratings
no wait guarantee
We're quick to help, so you won't be stuck waiting
24-hour support
Call us anytime, we're here for you
Up-front pricing
Clear and fair prices with regular rebates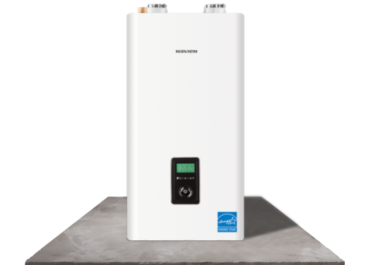 Condensing Boiler Navien NFC Series Capacity 175,000 BTU
This South Korean HVAC brand proudly stands among pioneers in creating environmentally friendly appliances. Navien was founded in 1979, in Seoul, as Kyung Dong Navien, as a home appliances manufacturer. However, in 1988 the company created a revolution in the Asian market, proudly presenting the first highly efficient and planet-friendly condensing boiler. Nowadays, Navien is well-known as a leader in condensing technology heating solutions. The company manufactures dozens of products for heating, water heating, and water treatment with the highest efficiency rating on the market.
As a trusted resource of Navien, we are proud to offer the latest and most innovative Navien products at competitive prices. Our experienced technicians have the skills and expertise to deliver exceptional maintenance and repair services, ensuring your Navien HVAC system operates efficiently and reliably, keeping you comfortable all year long.
Leave a request and we will advise you for free in the near future!