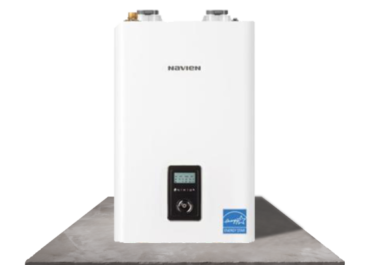 Condensing Boiler Navien NFB Series Capacity 175,000 BTU
Totally reinventing fire tube technology from the ground up
Patented stainless steel heat exchanger — eliminates high-stress point welds.
Advanced user interface and controls with intuitive text display, simplifies boiler setup.
Built-in hardware to connect a boiler system pump, 3 zone pumps, or 3 zone valves.
Optional NaviLink Wi-Fi remote control.
Cascading and common venting capable.
10:1 Turn Down Ratio.
AFUE 95.0% — Energy Star 2018 most efficient rating.
Patented compact stainless steel fire tube heat exchanger
Navien's advanced patented stainless steel heat exchanger design is ASME‑Certified, "H" Stamped, and reduces high-stress point weld failures common on other boilers. This compact, in‑house designed, and manufactured heat exchanger uses the latest automated laser welding technology to deliver superior product quality.
Advanced user interface and controls
Navien's new backlit control panel is simple and intuitive to use, with its color‑coded plain text display and an innovative click wheel that improves usability for all information input.
Built-in hardware to connect a boiler pump, 3 zone pumps, or 3 zone valves
With Navien's new PCB design you now have the ability to connect a boiler pump, 3 zone pumps, or 3 zone valves, all integrated into the unit.
Model

NFB

AFUE

95.0%

DOE Heating Capacity

161,000 Btu/hr

Dimensions

17.3 in W x 28.6 in H x 17.2 in D

Fuel Type

Natural/Liquid Propane Gas

Input Capacity Grouping

170,000-179,999 Btu/hr

Input Capacity

17,500 to 175,000 Btu/hr

Net IBR Grouping

140,000-149,999 Btu/hr

Net IBR Rating

140,000 Btu/hr

Dimensions H x W x D

27.6 in. x 17.3 in. x 17.3 in.

Weight

123 lb
5-Star Reviews
Satisfied customers give us great ratings
no wait guarantee
We're quick to help, so you won't be stuck waiting
24-hour support
Call us anytime, we're here for you
Up-front pricing
Clear and fair prices with regular rebates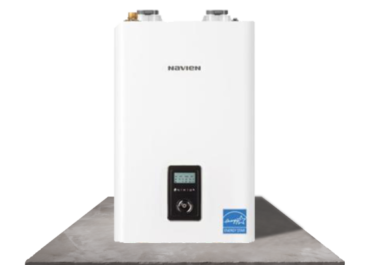 Condensing Boiler Navien NFB Series Capacity 175,000 BTU
This South Korean HVAC brand proudly stands among pioneers in creating environmentally friendly appliances. Navien was founded in 1979, in Seoul, as Kyung Dong Navien, as a home appliances manufacturer. However, in 1988 the company created a revolution in the Asian market, proudly presenting the first highly efficient and planet-friendly condensing boiler.
Nowadays, Navien is well-known as a leader in condensing technology heating solutions. The company manufactures dozens of products for heating, water heating, and water treatment with the highest efficiency rating on the market.
As a trusted resource of Navien, we are proud to offer the latest and most innovative Navien products at competitive prices. Our experienced technicians have the skills and expertise to deliver exceptional maintenance and repair services, ensuring your Navien HVAC system operates efficiently and reliably, keeping you comfortable all year long.
Leave a request and we will advise you for free in the near future!