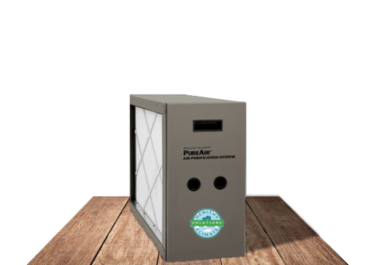 Air Purification System Healthy Climate Airflow
The PCO3 PureAir™ system attacks all three classes of contaminants, providing a healthier home environment:
Particles: small breathable particles such as pollen, dust and pet dander
Bioaerosols and microorganisms: viruses, dust mites, bacteria, mold spores and fungi
Odors and chemical vapors: pet odors, cooking smells, cleaning supplies and paints
Healthier
Exceeds hospital intensive care/operating room level filtration
Attacks all three classes of contaminants, providing a healthier home environment
Particles: small breathable particles such as pollen, dust and pet dander
Bioaerosols and microorganisms: viruses, dust mites, bacteria, mold spores and fungi
Odors and chemical vapors: pet odors, cooking smells, cleaning supplies and paints
Eliminates dust, pollen, bacteria and viruses to help your customers breathe easier
Removes 99.9% of particles absorbed by the lungs, including infectious bacteria and smoke down to 0.3 micron
Removes over 90% of bioaerosols including airborne viruses such as MERSA, flu and cold viruses down to 0.01 micron
Removes 99.9% of all pollen, mold spores, dust mites and pet dander
No ozone emissions, a known lung irritant
Reduces and destroys ozone
Cleaner
Cleans the air in the home better than any other single system
Destroys household odors and chemical vapors
Home comfort
Industry-leading air purification technology – an air purification system unlike any other
Whole-home purification works with any brand of heating and cooling system
Reliable performance
Quality you can trust – designed with reliable, time tested components
Uses the #1 rated MERV 16 Carbon Clean media filter
Model

PCO14-23

Product Width

8.8 Inches

Product Height

21.18 Inches

Product Depth

26.49 Inches

Gross Weight

36.7 Lb

Capacity

1400 cfm
Model

PCO16-28

Product Width

8.8 Inches

Product Height

21.18 Inches

Product Depth

23.79 Inches

Gross Weight

36 Lb

Capacity

1600 cfm
Model

PC03-20-16

Product Width

8.8 In

Product Height

21.18 In

Product Depth

26.49 In

Gross Weight

26.85 Lb

Capacity

2000 cfm

Filter Efficiency

16
5-Star Reviews
Satisfied customers give us great ratings
no wait guarantee
We're quick to help, so you won't be stuck waiting
24-hour support
Call us anytime, we're here for you
Up-front pricing
Clear and fair prices with regular rebates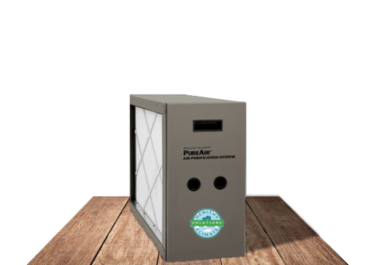 Air Purification System Healthy Climate Airflow
Lennox has a rich history of delivering high-quality HVAC products for over a century. They have consistently been at the forefront of innovation and sustainability in the industry, earning them a reputation as a trusted brand.
Lennox creates a wide range of cutting-edge HVAC solutions, including air conditioners, furnaces, heat pumps, and indoor air quality systems. Their products are designed to provide superior comfort, energy efficiency, and environmental sustainability.
As a Premier Dealer of Lennox, HVAC Service Solutions is proud to offer our customers access to the latest Lennox products at competitive prices. Our certified technicians are equipped to provide top-quality maintenance and repair services using genuine Lennox parts. Trust us to keep your Lennox HVAC system running smoothly for years to come.
Leave a request and we will advise you for free in the near future!
An air purification system is an easy and convenient way to improve the overall air quality and comfort of your home. It's a small investment that can have a big impact on your health and well-being.
So, if you want to improve the air quality in your home, improve your sleep, and reduce the symptoms of allergies or asthma, an air purification system is definitely worth considering.
First, air purifiers can help to remove pollutants and allergens from the air, making it cleaner and healthier to breathe. These pollutants can include dust, pet dander, mold spores, and bacteria, among others. This can be especially beneficial for people with allergies or asthma, as it can help to reduce their symptoms.
Second, air purifiers can also help to reduce odors and VOCs (volatile organic compounds) in your home. This can improve the overall air quality and make your home smell fresher.
Third, an air purification system can help to improve your sleep quality by removing allergens, dust, and other particles that can cause allergies or asthma symptoms.
When it comes to your HVAC system, you want to make sure you're working with the best. That's why at HVAC Service Solutions, we only partner with industry-leading brands like Trane, Lennox, Costco, and Honeywell. We understand the importance of using original equipment and parts and our team of specially trained technicians is equipped to provide you with top-notch service.
You can find all the info needed about an air purification system on our site. To order one, please, just press the "request the quote" button or call us by a number you find here, on the HVAC Service Solutions website. We've got you covered! You can easily order one on our website and our manager will be in touch shortly with a quote and all the details about the product's price, guarantee, and services we can provide.