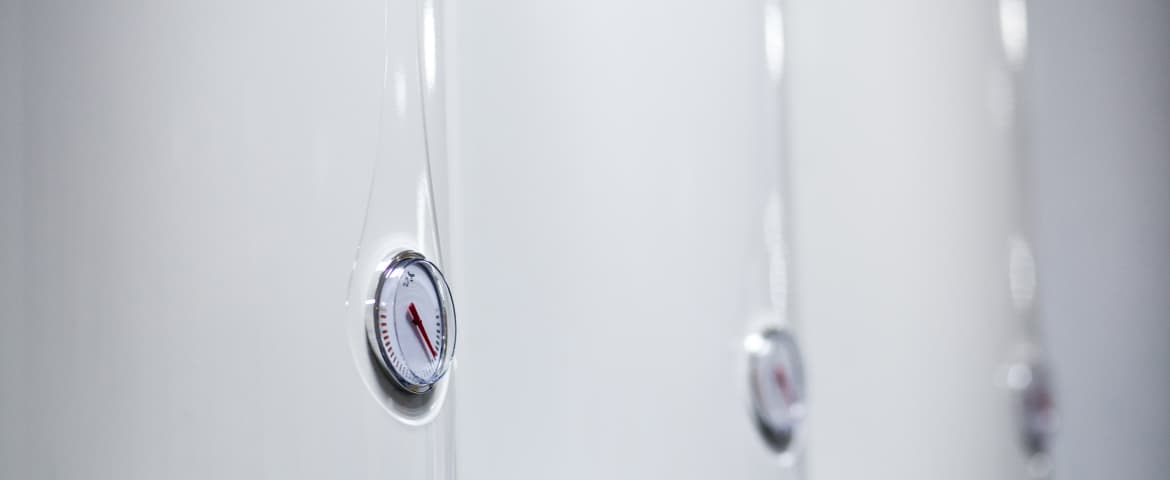 Hot water tanks are an expensive and long-term investment. When it comes to choosing one, you should consider the different options in order to find the best solution for your house.
In this article you will get up-to-date information about water heaters and hot water tank installation costs in Canada. Spend 5 minutes on reading it to find what fits better in your case.
Average water heater installation costs by size
All water heaters require certified and professional installation. This parameter will ensure 70% of system efficiency. According to the Forbes Home, an average tank-type heaters installation costs between $500 and $3,000+.
The size of the equipment plays one of the main roles here. Let's compare the numbers in the table below.
Note that the average installation price may be higher. This depends on water heater placement, venting system type, materials, local permits, tank expansion and removal. All these parameters are described in detail below.
Tank vs. Tankless water heater costs
An average Canadian uses 335 liters of water per day. This includes expenses for washing dishes, clothing, cleaning, showering and bathing. Tankless water heaters are known to be more efficient, however tank-type water heaters are more common for Canadian households.
Let's discover the main differences between these two types.
| | | |
| --- | --- | --- |
| | | |
| | | |
| | | |
| | | More complex and expensive |
| | | |
| | Heats and stores large amounts of water | |
Both tank-type and tankless water heaters have their pros and cons. The first one takes a lot of space, but it costs less. Its installation and maintenance services are also cheaper. The tankless type has a smaller selling price, saving 30% on your energy bills, but it is expensive in services.
Gas vs. Electric water heater costs
Both tank-type and tankless water heaters can run on gas or electricity. The fuel source is one of the characteristics that can significantly impact installation price. Let's compare these two water heater types in the table below.
Tank-type installation price

Tankless installation price
If your house is located near a gas line, it would be easier to tap a gas water heater into it. When there is no natural gas, you should buy propane. This, however, means additional expenses.
In this case, it is much easier to install an electric one. This type costs less to install, but you would have to deal with slow water heating and higher utility bills.
Energy-efficient storage tank water heater costs
Water heaters use 20% of the home's energy. Energy-efficient equipment saves more than 30% on your bills and is more sustainable. Here is a list of the most common equipment types in this category.
Indirect Water Heater. This type uses energy from an existing furnace or boiler to heat water in the tank. The monthly price is low, but the installation price is one of the highest.
Solar Water Heater. It uses direct sunlight as the main fuel source. One of the cons is that you should also install a traditional water heater in case of emergency.
Hybrid Heat Pump Water Heater. This is the most energy-efficient but also one of the most expensive types. It generates hot water using a compressor and coils and requires a lot of space.
Let's compare their installation prices in the table below.
| | |
| --- | --- |
| | |
| | |
| Hybrid Heat Pump Water Heater | |
Note that these are only approximate ranges. Installation prices may be higher, depending on its special features. We will observe them in detail below.
Factors that increase the cost of installing a water heater
An average installation price is $1,000 for labor, materials and water heater. In each case certified HVAC technicians do precise measurements of your house and consider all individual desires.
This may lead to changes in pre-calculated cost. Here are the main reasons why installation prices can become higher.
Water heater placement. Installation in narrow places will cost more than in places with good accessibility. The price will also increase if the area is far from the main waterlines.
Venting system. Power venting will add $600–$1,100 to the price, while direct venting costs add $500–$1,000.
Materials. You will need special water and gas piping, pressure valves, thread compounds, solder and other elements for professional installation.
Local permits. It is not a must, but some cities require permits for water heater installation. This point depends on your house location.
Expansion tank. Professional HVAC technicians install it to handle the thermal expansion of water and prevent excessive water pressure.
Tank removal price. You may need to pay extra for tank removal. The costs will be higher if you change the water heater type or their fuel source.
Consider these factors when ordering a new water tank. If you want to receive more information on how much it costs to install a hot water tank in your case, schedule a free consultation with the HVAC expert via the link below.
How long does it take a new hot water heater to work?
Each water heater has its characteristics. Despite Energy Efficiency and gallon capacity, it also has heating time. This parameter depends on the size of your heater and fuel source. The average number is 42 minutes. More detailed information is added in the table below.
| | |
| --- | --- |
| | |
| | |
| 40-gallon electric heater | |
| 80-gallon electric heater | |
| | Produces hot water on demand |
How many hours a day does a water heater run?
Canadians use twice as much water than the average person in Europe daily. If a citizen of Ottawa needs 335 liters, which is equal to 670 bottles of 500 ml, a British citizen needs only 140 liters.
It determines your system runtime, which depends on your needs, water heater type, gallon capacity and fuel source. Tankless work approximately one hour per day. Tank-type requires from three to five hours of runtime.
Conclusions about the hot water tank installation cost
Hot water tank installation costs depend on the model, capacity, fuel source, and company that provides services. Please consider all these factors before ordering.
If you want to save time, consider hiring a professional team. The HVAC Service Solutions is an official Trane and Lennox dealer ready to find the perfect solution for your house.
Contact us via the link below to schedule a free consultation with one of our HVAC experts. Your desired water heater is within a click of a button.